Sustainable. That is a word that best describes the efforts of two Carthage College marketing majors.
In the past year, Sophie Shulman and Zach Gibson, both 20 and committed to the environment, and sustainable renewable energy, formed a limited liability corporation whose mission is to promote renewable energy initiatives.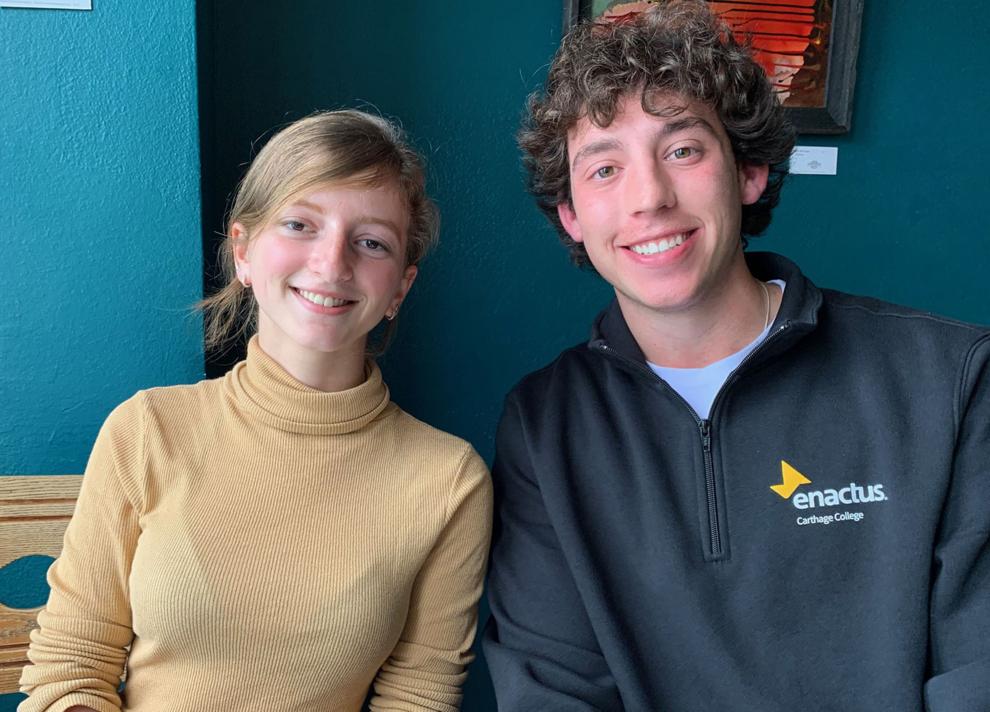 The first fruit of their labors is a partnership with All Solar Energy in which the students' company, Blackbird Gen, is facilitating the Kenosha Area Solar Group Buy program.
Starting in mid-September and running through Nov. 30, residents in Kenosha and parts of southeastern Wisconsin can purchase solar energy products and renewable energy contracts from All Energy Solar in what is known as a "group buy."
The students' journey started last year with their involvement with Enactus, a campus business organization dedicated social impact work on campus.
Said Gibson, Enactus' vice president: "There are two different facets of the Enactus project: that first one is the impact on campus and the second is the impact on the campus community. We figured one of the best ways (to have impact on our community) was to increase the amount of renewable energy used in Kenosha."
The two began canvassing Kenosha area residents about their interest in and knowledge of solar energy and soon got into contact with All Energy Solar, a solar energy provider based in Minnesota.
According to information provided by All Energy, "the group buy initiative offers home and business owners additional rebates to help make the switch (to solar energy) ... The more people who sign up, the more rebates everyone in the group will receive."
For its role in promoting the sales and providing education about solar energy, Blackbird Gen will receive funds from All Solar Energy.
Each person who gets a solar evaluation for their property through the program will trigger a $25 donation to the startup. In addition every five kilowatts of residential or commercial solar contracts signed as a result of the program will trigger a $300 donation to Blackbird Gen.
The students explained that their marketing business with concentrate on building brand awareness for enterprises involved in "green energy regeneration."
Shulman and Gibson explained the name of the company, Blackbird Gen. " We liked 'Blackbird' because blackbirds love to sunbathe," Shulman said.
"There's also a Shakespeare reference," said Gibson. "In a Shakespeare class in high school I learned that the blackbird was used as a symbol for change. I loved the idea of using a blackbird for our company because what we are trying to do here which is ultimately change the way people purchase energy."
"Gen" refers to renewable energy generation, Shulman said.
"(Blackbird Gen) was founded by the two of them with the support of a group of peers' who are also passionate about sustainability," Shulman said.
The business model evolved when the students realized many while many are aware of solar energy, they did not know how to make it a viable option, Shulman said.
"This was the problem we saw and wanted to use our marketing," Gibson said.
To get their LLC off the ground the students reached out to their professors in law and accounting professors and used local CPAs and attorneys for business advice.
"The professors at Carthage are just amazing resource," Shulman said.
Education the public about the solar buy and renewable energy is an important component of the current initiative, say Blackbird Gen owners.
To explain the process they are hosting one-hour webinar sessions through mid-November (see box).
"We are calling these 'Solar Sessions,'" Shulman said. "They are a way for people who are thinking about the group buy to get a better idea of what would actually go in the purchase, what the panels do and how they work and how benefit homeowners."
"While (Blackbird Gen) was initially looking to fundraise, the group buy proposal was a win-win way to also focus on that goal of making Kenosha more environmentally friendly,' said Ryan Buege, director of sales and marketing for All Energy Solar.
"Blackbird Gen has continued to exceed expectations, and they show true commitment to their growth and their mission," he said.
Starting up a renewable energy LLC was not the first thing either of the students, both 20 and currently sophomores had in mind when they started Carthage.
"My first career plan was to become a classical guitarist using my music major," Shulman said. "Never in a million years did I think I'd be working with green energy.
"I read lots of books about climate change and passion for sustainability has definitely grown in college," Gibson said. "If you told me in high school that I'd be this passionate about sustainability I would not have believed you."
"Because we can do this while being full-time students means we can continue to have a positive impact after graduation," Shulman said.
"We're excited. This is what we always set out to do, to have an impact on the community and leave a positive trace," Gibson said.